Dave Brandt was a big man with an even bigger heart.
He also had big hands, often used to gently scoop up spades full of dirt to show visitors his farm's worm-friendly, crumbly soil structure.
Brandt had turned decades of experimenting in no-till and cover crops into what can only be described as the ultimate in high organic matter soil beds on his Ohio farm. The 76-year-old, who tragically died in a car crash last week, was the king of conservation, a regenerative ag rockstar long before that trendy buzzword began to surface years ago.
"It's like cottage cheese": Ohio no-till pioneer Dave Brandt shows what happens in cover crop residue, resulting in rich, worm-friendly soil leading to high yields at reduced input costs.
If you want to understand more clearly what it takes to build organic matter and soil health, just watch the video above, made at Brandt's farm some eight years ago.
Brandt was legendary for his innovative testing with cover crop seed mixes, intercropping and no-till. He used nature, not chemicals or synthetic fertilizers, to nurture high yields. When I visited him in 2015, he was working on ways to prove that his methods were more than just conservation. In fact, farmers who adopted his techniques could shave input costs.
"The problem today is we have been told you need to apply this and buy that to make a yield," he told me. "But if we start treating the soil right, we may not need all those extra things to make maximum economic returns. We're trying to prove that with the right no-till system, what we have in the soil is all we need to maintain production."
A quiet guru
Unassuming and forthright, Brandt never asked for publicity. Yet, people flocked by the truckloads to see his fields and hear him speak in simple, clear language about the virtues of a three-pillar system: no-till planting; cover crops for nutrients, weed suppression and conservation; and crop rotation. His working crop farm in the gently rolling fields of central Ohio served as a massive test plot.
I thought I was seeing things when we stopped at a field of corn intercropped with soybeans.
"These soybeans will give 100 lb. of nitrogen back to the corn crop," he explained. "After the cost of seed and planting, this will lower the cost of N to that crop by half." Back then, that was conservatively $60 per acre savings on fertilizer costs. The savings would be dramatically higher with today's high input cost landscape.
These intercropping trials began over a decade ago as a local FFA project. In plots with no nitrogen applied – just soybeans intercropped – the corn yielded 182 bushels per acre. In a nearby field where 140 units of N was applied but without the intercropped beans, the field yielded only 125 bpa.
"That's when my eyes really opened up on this idea," he said. "Over the growing season we've seen the corn roots grow right into the soy root nodule where the nitrogen is."
Weed suppressing cover crops
On another plot, Brandt was looking at non-genetically modified corn with zero seed treatment compared to GM seed with and without treatments, which, at the time of our visit, cost $45 to $60 per acre.
"We're trying to see if biotech traits are worth it in specific soil conditions like no-till with weed-suppressing cover crops," he said. "Guys with conventionally-tilled fields probably do need them because those soils have no micro-organisms to speak of.
"With these plots we're trying to see if no-till, cover crops and rotation will do enough in terms of insect and weed control." If successful it would mean shaving another $50 to $100 off crop budget costs. Again, this was in 2015 – consider how much more you would save based on today's crop costs.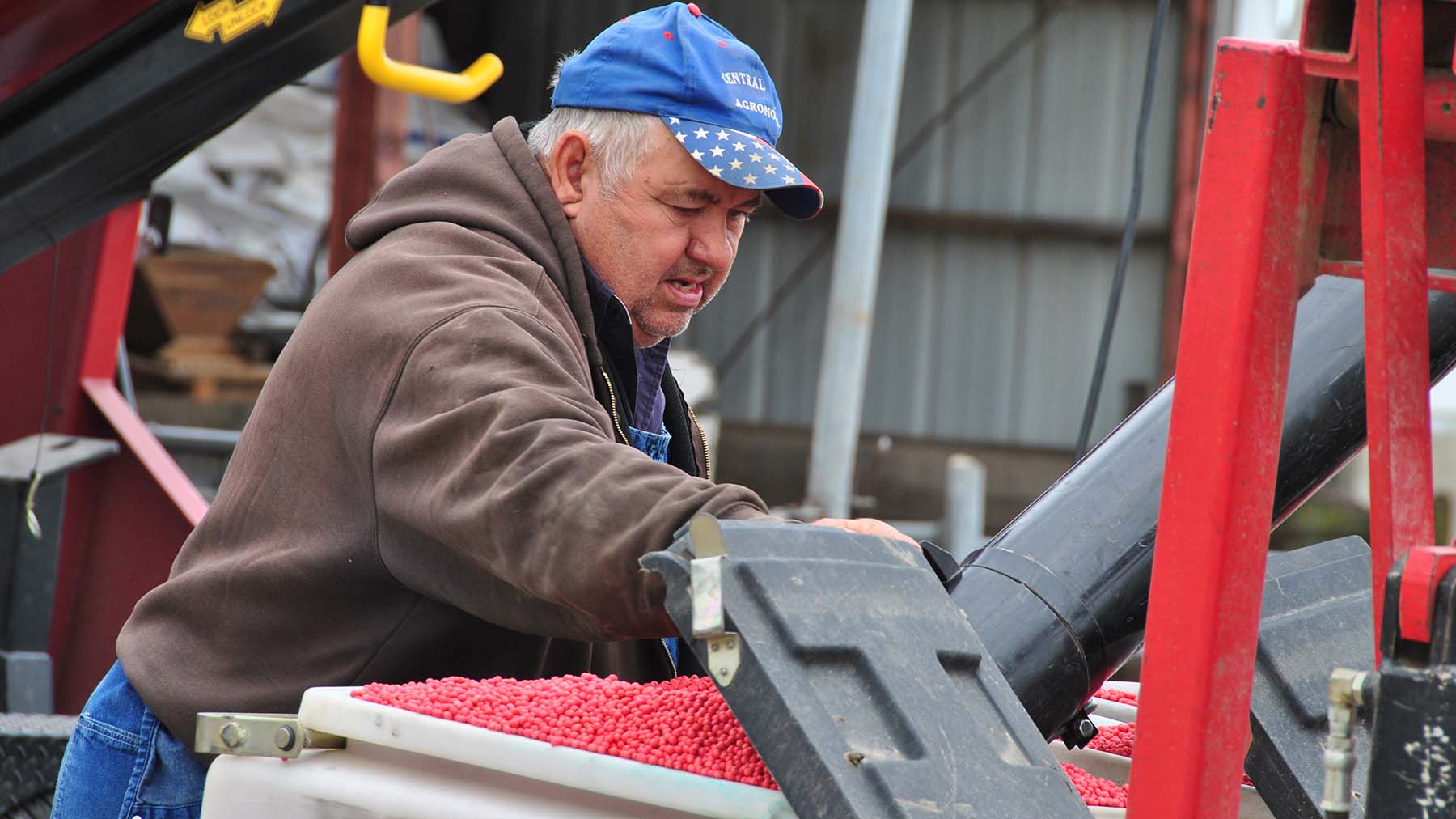 TEACHER TO MANY: People flocked by the truckloads to see Brandt's fields and hear him speak in simple, clear language about the virtues of a three-pillar system: no-till planting, cover crops for nutrients, weed suppression and conservation; and crop rotation. Credit: Mike Wilson
Organic matter on steroids
Then I got to see what might best be described as the showpiece of the place: a field that had been no tilled since 1970 when Brandt first started tinkering with the practice. The soil was dark, with a certain 'give' under the shoe; a bit spongy, yet well drained. Nearby was a recently purchased field that had been conventionally planted for years.
The two fields were stunningly different from each other.
"My field has 7% organic matter," he explained. "The field we just purchased here has less than 1%– it's been farmed to death. Our goal is to get that figure up to 7% in the next seven years."
Now, any farmer who paid attention in agronomy class can tell you there's a bit of magic that happens to soils that make even the three or four percent OM level. Lots of nutrients get unlocked and fertilizer bills go down, while yields grow.
But… 7%?
Brandt would never brag about such an achievement, but he would certainly want others to see just what they could do to improve their farm's soil health. He told me everything he had learned about farming came from these home-grown field trials he would set up each year.
"The average farmer might see what I'm doing and say, you don't have scientific data," he said. "If it works, who cares? I make a lot of mistakes, but this is how I learn. There's nothing I won't try."
In fact, Brandt turned one of his 'mistakes' into another test plot. He ran out of weed spray on a small patch of land where he had been killing cover crops. So he just decided to see if the corn crop could outgrow the living cover blend. When I visited in late May of that year, the corn seedlings were healthier than the corn plants in the nearby area where the cover had been killed off.
"Who knows, maybe corn needs competition," Brandt said with a smile.
Cover crop master
Brandt used to be famous in the cover crop world for his fondness for tillage radishes. He had been quoted many times on the marvels of this plant builds soil tilth and opens up pores to improve drainage.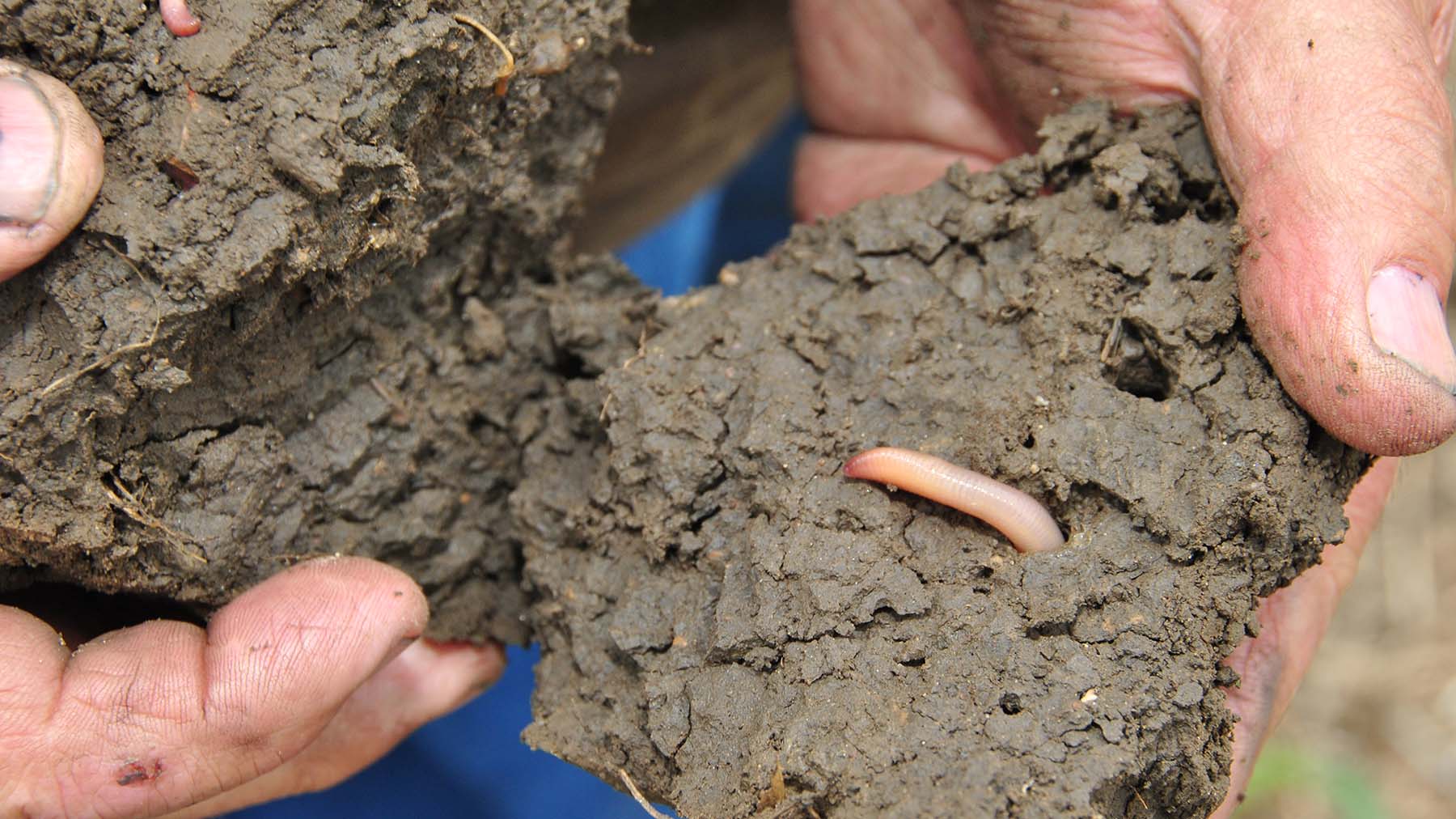 FULL OF LIFE: Brandt liked to plant tillage radishes in cover crops. Those radishes would break down and provide food for earthworms, which in turn built up the water infiltration capacity in the soil. Credit: Mike Wilson
At the time of our visit Brandt was selling no fewer than 127 varieties of cover crop seed. His warehouse could blend just about anything for anybody, depending on what you were trying to accomplish. One 12-variety blend had tall, medium and short plants, which offered a variety of root depth to suppress weeds and create pores in the soil. In the spring of 2015, he had planted corn into that blend and the soils tested 175 lb. of N per acre, so no nitrogen was needed on that field that year.
Brandt believed a three-crop rotation that includes corn, soy and wheat was the best way to build soil OM. Adding wheat is a hard sell at times since it's not the revenue generator corn and soy are. However, you need to take the long view, he would insist.
"This wheat is going to probably make 90 bu. per acre," he explained, gesturing to a nearby field. "Then after we harvest, we will put on a long season cover blend which will produce lots of N and bring P and K back to the surface. That will save me in the neighborhood of $200 per acre in reduced fertilizer costs when I plant corn in that field next spring.
"If you have a three-year rotational crop you can enhance corn and soybean yields; that is university proven," he added. "Now we're going to a three-crop rotation plus cover crops, which gives us higher OM, loosens soil, increases water infiltration and lowers nutrient costs the next two years. That makes it all more profitable, and no one can argue with that."
Here's something else no one can argue with: Dave Brandt will be sorely missed.