By Joyce Chimbi I j.chimbi@gmail.com
When COVID-19 took over life as people knew it and became the most central story in recent history, the media was caught flat footed. With the exception of journalists with a history in HIV/Aids reporting, for a large section of the media, covering COVID-19 became a most challenging task.
"The most balanced, accurate and informative stories came from journalists with a history of covering HIV/Aids. These journalists drew from their experience covering HIV/Aids over the years," said Kay Marshall from AVAC.
Marshall was speaking during a three-day media symposium held in Nairobi-Kenya organised by AVAC in partnership with Internews and the Media for Environment, Science, Health and Agriculture (MESHA), for regional journalists drawn from Malawi, Zambia, Zimbabwe, Uganda, Tanzania and Kenya held on September 19-21, 2023.
"Our role as journalists as clear. To educate, inform and break down complex science for our readers. We started the Media Cafes in order to give journalists and researchers an opportunity to engage, and bridge the gap that existed. This has enabled journalists to have access to experts and for experts to easily access journalists with much-needed information," Chaacha Mwita from Interniews expounded.
Aghan Daniel, MESHA Secretary said that the symposium was organised to facilitate discussions among "senior journalists, researchers, implementers and civil society on lessons learnt reporting on the ongoing COVID-19 pandemic and HIV/Aids."
Journalists and symposium speakers interacted and engaged around critical topics such as the tools available to prevent HIV/Aids. There were extensive discussions about the pre-exposure prophylaxis (PrEP) as a critical HIV preventive tool.
HIV experts such as Prof. Kenneth Ngure from Kenyatta University spoke about the oral PrEP, dapivirine vaginal ring, cabotegravir for prep and the challenges, successes and opportunities for their rolling out and scale up.
During a site visit to KAVI – Institute of Clinical Research at the University of Nairobi, Prof. Omu Anzala took journalists through memory lane to 1984 when the first HIV case was diagnosed. He spoke about the challenges finding a HIV vaccine and why the COVID-19 vaccine was developed within a short period of time.
Meanwhile, he expounded on the options available to prevent HIV and the need to scale up HIV prevention options. Prof. Anzala further spoke about emerging and re-emerging diseases and what journalists should know moving forward.
Journalists took a tour of the laboratories where life saving research is conducted and were taken through the protocols of a clinical trial.
Additionally, there were discussions around the similarities between HIV/Aids and COVID-19 under the topic 'A Tale of Two Pandemics and Counting' and why journalists with a background on HIV coverage understood many of the key concepts around COVID-19. Journalists were encouraged to see linkages between and among diseases to give their readers a comprehensive account of diseases that plague society today.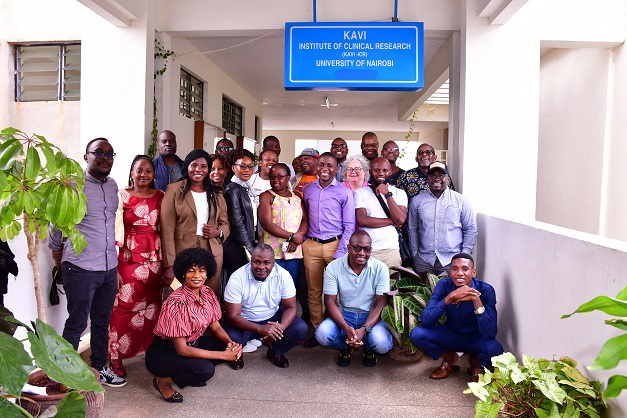 On global media coverage of COVID, Marshall said "one study found 26 million news articles from the front pages of 173 major online news sources in 11 countries between January and October 2022. During this period, COVID-19 coverage accounted for approximately 25.3 percent of all front-page online news articles."
HIV expert Jackline Wambui spoke about the need to use lessons learnt thus far to prepare for the next pandemic, "for it is coming and we must do everything possible to prepare for it. We need to continue sharing lessons learnt so that we are not caught unprepared."
Other topics included the issue of climate change, One Health and Outbreaks and the important issue of preparing for New Health Challenges. These sessions were anchored on highlighting and underpinning the intersection of one health and climate change.
"Over the past 25 years, a succession of disease outbreaks has threatened global public health, animal health and biodiversity conservation. From SARS to avian and swine flu, and from Ebola to Zika and MERS, diseases of animal origin have caused alarm, locally and threat globally. According to the World Health Organization, about one billion cases of illness occur every year from zoonoses," said Martin Muchangi, Amref.
Throughout the three-day event, journalists pondered about what covering the next outbreak or pandemic will look like and while there were no ready answers, there was consensus that journalists will be better prepared due to the baptism of fire that they all went through interacting with a brand-new pandemic.
The symposium ended with a call from the MESHA chief to the journalists to embrace mentorship as one way of ensuring continuity in telling the African science story. The senior journalists in the house agreed that they will each identify at least one health journalist in need of mentorship and ensure they work with them as mentees.