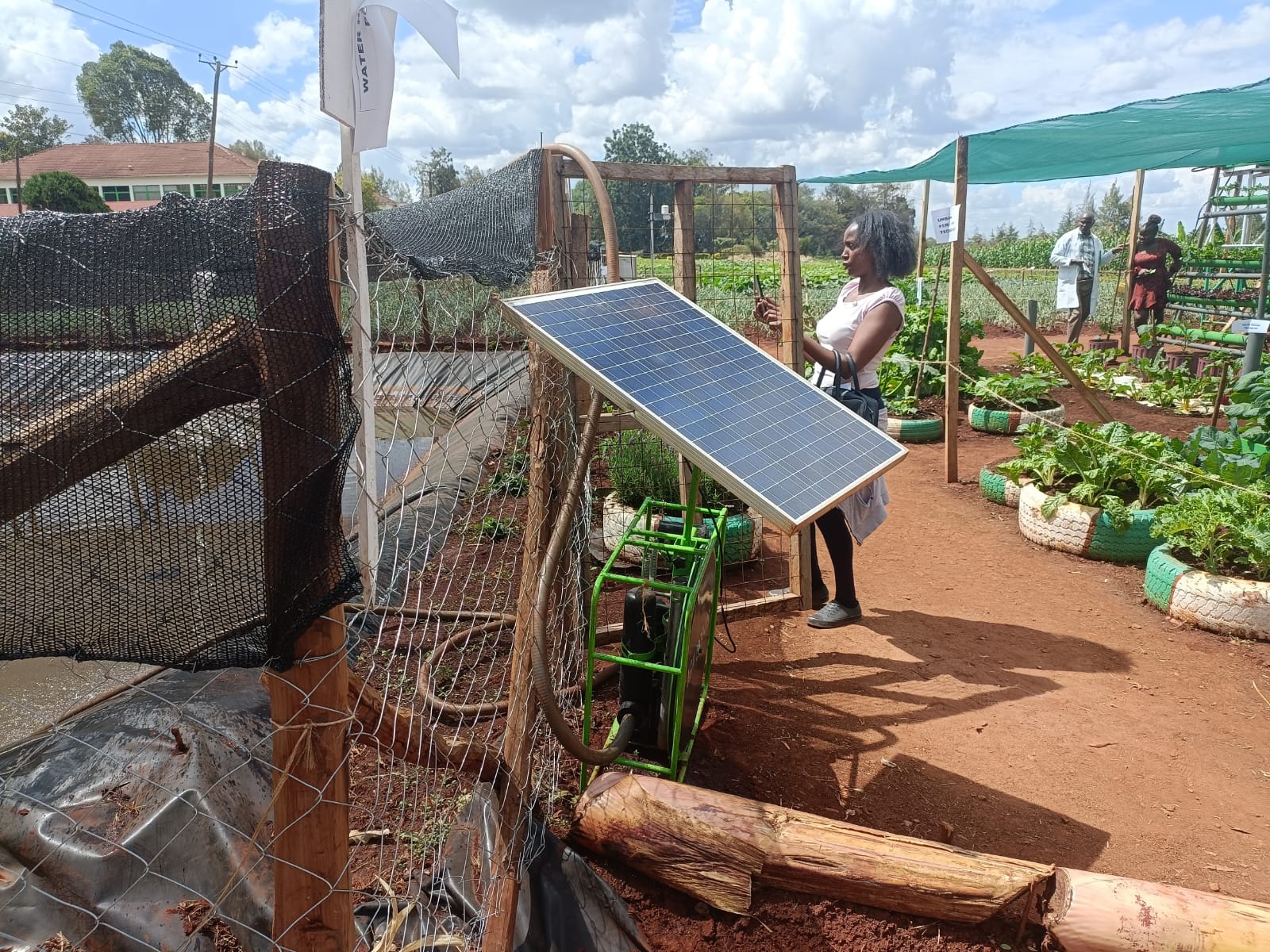 The Kenya Agricultural Research Organization (KALRO) Kabete occupies approximately 25 hectare of land with an altitude of 1740m above sea-level. The annual mean rainfall and temperature are about 980 mm and 23°C, respectively. It is located approximately 13 kilometres from Nairobi city.
On the right hand side, just a few metres after entering the main gate, you come across a one-acre farm. It was the main attraction for people who visited the organization open week exhibition.
This is due to its flourishing and healthy green looking crops notwithstanding it being a dry season. The organization has been using rain water harvesting technology to do farming in the one hectare land.
Dr Esther Gikonyo is the Centre director at KALRO Kabete. She is a soil and plant nutrition specialist. She said that at this time when climate change is being experienced globally, water harvesting technology is very important in ensuring that farmers embrace it to do farming so that they can get enough yields.
Dr Gikonyo said as an organization, they ploughed the one hectare land in January and February and used the harvested water for irrigation.
"We started ploughing in the month of January when it was very dry. But thanks to our harvested water, we used it to do irrigation and now these are the fruits of our labour," she told a section of MESHA members.
"If the community embraces water harvesting technology and do irrigation using the water, then every family will be food independent," she added.
Dr Gikonyo advised farmers to develop the habit of harvesting rainwater because rain patterns have become unpredictable. She also noted that water harvesting come in handy due to climate change effects which have been causing insufficient rains and environmental damages.
She observed that the above scenario has seen many farmers get little or no harvest at all hence causing food scarcity and famine in some parts of the country.
Water Harvesting
Water harvesting, experts say involves collection and storage of rain water with the help of artificially designed systems, which run off natural or man-made catchment areas such as rooftop, compounds, hill slopes and others.
Francis Karanja is the irrigation engineer at KALRO. He says water harvesting technology is simple and every farmer can afford it noting that it is also very easy to use the technology for irrigation. He says at the farm, the rain water is collected from a roof-like surface and redirected to a deep pit or a borehole.
"Some of the equipment that we use include black paper to cover the pool, two water tanks and the solar machine to pump the water into the farm," he said.
According to Engineer Karanja, the pit can hold up to 4,500 litres of water and can supply water to irrigate the farm for a period of three months.
"The borehole cost us Ksh 250,000 (USD 1,800) and is expected to last for more than ten years," he said.
Apart from the water harvesting technology, different stakeholders exhibited various technologies for farming such as con garden, vertical bag farming among others.
This was in line with the year's theme "transformative agricultural technologies, innovations and management practices for food and nutrition security, income and climate resilience."